Supporting People with Mental Health Issues
Mental Health is a serious concern and funding for mental health issues is becoming limited. In 2014, there was an estimated 9.8 million adults suffering from Serious Mental Health Illness. According to the National Survey on Drug Use and Health, Serious Mental Illness is defined as: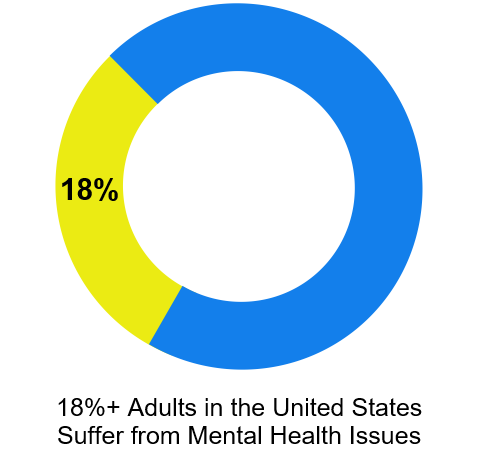 "A mental, behavior or emotional disorder (excluding developmental and substance use disorders); diagnosable currently or within the past year; of sufficient duration to meet the criteria within the DSM-IV (Diagnostic and Statistical Manual of Mental Disorders); and, resulting in serious functional impairment, which substantially interfered with or limits one or more major life events."
However, people suffer from more than serious mental disorders. People can suffer from anxiety disorders, compulsive disorders, panic disorders, social phobias and even attention disorders. In 2014, there were an estimated 43.6 million adults suffering from some form of mental illness.
Numbers frequently ignored in mental health are people suffering from developmental disabilities; including autism. In 2012, 1 in every 68 children were identified on the Autism Spectrum. According to statistics, boys are five times more likely to appear on the Autism Spectrum.
These numbers prove the importance of mental health programs. Unfortunately, some mental health facilities close. The primary cause is lack of funding. For example, the state of Illinois is engaged in a budget war. One of the main programs affected is mental health. In 2015, Governor Rauner proposed major cuts in the mental health budget. While Illinois continues its budget crisis, mental health facilities are working to obtain funds elsewhere. In the mean time, the state of Illinois is seeking Federal funding for a Behavrous Healthcare Overhaul.
Mental health is a matter Holly Geraci and Peter Francis Geraci take seriously. Holly is an active advocate for those suffering from mental health problems and developmental disabilities. As a resident of Illinois, Holly and Peter are well aware of the financial difficulties Mental Health Facilities are facing. You can learn more about the mental health programs Holly Geraci Supports by clicking on the links below. Covenant Enabling Residences of Illinois, Thresholds, and the Josselyn Center.